Do you have the gift of service? Do you want to help families in need?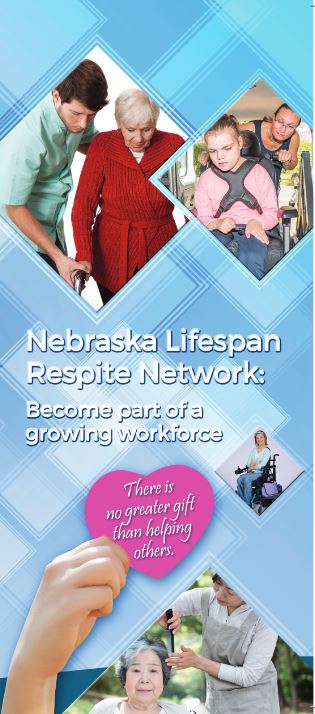 Respite and direct care workers help people of all ages with disabilities and special healthcare needs do what everybody else does every day: work, play, and take part in community life.
People with disabilities may have different needs, but many rely on direct care workers or respite providers to help accomplish activities they want to do. Respite can occur in many different ways and places depending on the needs of the family caregiver and the person receiving the care. Respite allows the family caregiver an opportunity to have time to do what is needed to take care of themselves, thereby helping relieve stress in the family.
Respite Care is:
Directed by the family
Individualized to meet the needs of the care receiver and family
Providing a meaningful experience for the care receiver
Care is provided:
In the family's home
The provider's home
In the community
Respite Provider Frequently Asked Questions
It is recommended you complete a NE Lifespan Respite Network provider application. This informs family caregivers that you have met minimum background check requirements, when you are available, and other details about the type of special needs or ages of individuals for which you are able to provide respite care.
This information is tallied and made available to family caregivers through the Nebraska Resource and Referral System (NRRS). Depending upon funding source, additional program-specific requirements may be asked of you. Check with the local Respite Coordinator or interested family caregiver.
The local Respite Coordinator will verify status with the DHHS authorized representative to avoid unnecessary duplication of Network required screening. Together, we will make every effort to prevent any delays in processing your provider application.
No. This is your choice. However, the advantage is being linked 24/7 with family caregivers in your area through the Nebraska Resource and Referral System (NRRS) to contact you directly to discuss respite care needs.
Nebraska Lifespan Respite Network Online Provider Orientation The demand for skilled respite care providers in Nebraska is growing! The purpose of this free orientation is to give you basic information about what to expect as a respite provider. Feel free to start and stop the orientation as needed to fit your schedule. Most are able to complete the orientation in about one hour. You will receive a certificate of completion after successfully completing the orientation.
The NE Lifespan Respite Network also compiles a courtesy provider calendar of local, state and national training events.