Body
Now deep into my thirties, I find myself caught between two worlds. Every so often, these worlds unite inside a Ford Explorer to run errands. My store hopping entourage is my ninety-year-old grandma and my two-year-old daughter. Contrary to what you might think, they have a lot in common. They both insist they are twenty-five.
Just loading our gear into the car is a miracle. Even with a SUV, there is not much room for error. I must strategically pack the car seat, jogging stroller, and walker with inches to spare for groceries. I don't know why I bother. No matter the arrangement, the bread always gets squished.
Now days we have road safety laws to abide by. My negotiation skills must be razor sharp to convince an independent two-year-old with the dexterity of a monkey, and a semi-independent ninety-year-old with osteoarthritis to wear seatbelts. Grandma insists that she will just hold the seatbelt across her lap to fool the cops. I insist that I'm not concerned about a ticket, just a grandma hood ornament, if I have to break hard. Sometimes I win. Sometimes I don't.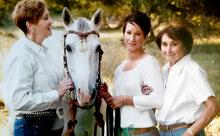 When confined in a vehicle with someone who barely survived the Great Depression to someone who can barely survive a car ride without TV, it's hard to find common ground. My grandma can't understand why my little princess has to watch videos, when we could all sing songs together. Grandma tells me "Singing is what got people through the Depression and WWII, surely, it can get us to the store." I respectfully explain to her that a video lets us have a pleasant adult conversation verses raisins thrown at the back of our heads, or worse, a shoe.   
We manage to arrive in the store parking lot with the Sound of Music CD thumping the sunroof. Say what you want, somehow Julie Andrews unites a generational gap from the Grapes of Wrath to SpongeBob SquarePants. I unfold our collapsible mobile devices trying not to sever my finger in a hinge, then into the store we roll, stroller and walker toe in toe.
The volume of provisions a four person home requires amazes my grandma. The health and beauty isle really blows her mind, "It takes all these bottles for women to be presentable?" I tell her that if it wasn't for my dedication to these bottles of miracle cream, she would have "grandcats" instead of grandkids.
As we push on towards the checkout counter, I can't help but giggle as the majority of our cart is occupied by impermeable undergarments. Whether it's the result of developmental age, medical side effects or body after baby, incontinence is a part of life. That's why I find comfort in the fact that a large part of the population is just one sneeze away from a social indiscretion. We must remember that we are all in the same boat and sometimes it springs a leak. Finding the humor in life's little nuisances will keep you from crying, so sing a silly jingle when shopping for such items: From babies to mature ladies and lads to granddads, we're covered with absorbent pads.
As we leave the store and shuffle out into the crowded parking lot dodging cars at a snail's pace, my grandma expresses her anxieties about locating the car. I assure her there is no need for concern. All we have to do is follow the trail of raisins. In this moment, I can't help but think of Norman Rockwell's iconic paintings. Would he be inspired by three generations making compromises for each person's capabilities, to enjoy a day of shopping? I would hope so, it's really quite beautiful.   
Mandy Sullivan freelance writer/columnist invites you to read about her precarious experiences as a caregiver for multiple generations. So sit back and enjoy a fun read in the only room of the house you can find some peace, even if you have to make a stink to do so! 
© Mandy Sullivan, 2018. Unauthorized use and/or duplication of this material without express and written permission from the author is strictly prohibited. Excerpts and links may be used, provided that full and clear credit is given to Mandy Sullivan with appropriate and specific direction to the original content.